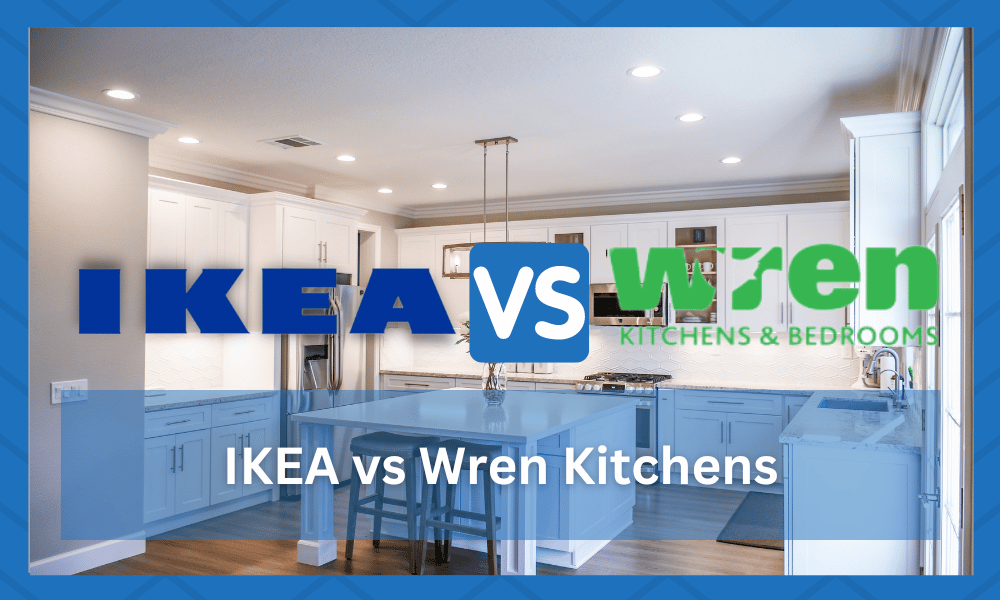 IKEA is a large store specializing in home furnishings and products. Wren Kitchens, on the other hand, specializes in kitchens only. This may seem like comparing apples and oranges, but the two have some similarities.
IKEA focuses on people, the community, and the planet. This commitment extends to suppliers and those who work for them or purchase products. In that, Wren Kitchens is similar. Part of that is gender pay disparity.
Women tend to earn less than men, even if they do the same job and have the same responsibilities. This isn't fair, but it has always been thus.
Kitchen Comparison: IKEA vs. Wren Kitchens
IKEA Kitchen
First, IKEA kitchens offer various customizable options for every budget and style preference.
Whether you prefer a modern look or something more traditional, there are numerous cabinet fronts, countertop materials, and decorative accents.
Additionally, the ability to customize your layout allows for maximum efficiency and functionality in your kitchen space.
IKEA kitchens also offer high-quality products at affordable prices.
The company uses sustainable materials in its kitchen lines, such as bamboo and recycled plastic, and they have a commitment to producing energy-efficient appliances.
Furthermore, the assembly process for IKEA kitchens is straightforward and easy, with clear instructions and pre-drilled holes for added convenience. However, professional assembly services are available for an additional cost if needed.
| | | |
| --- | --- | --- |
| | IKEA Kitchen | Wren Kitchen |
| Based in | Worldwide | UK based |
| Committed to sustainability | Yes | Yes |
| Physical Showrooms | Available | Available |
| Price | Affordable | Affordable |
| Style | Trendy | Trendy |
Overall, IKEA kitchens provide great value for those looking to update their kitchen without breaking the bank.
With customizable options, high-quality materials, and convenient assembly processes, an IKEA kitchen is a smart choice for any homeowner.
Pros and Cons:
Wide range of customizable options
Affordable prices
Commitment to sustainability and energy efficiency
Easy assembly process, with professional assembly services available
Some may prefer different brands with more upscale options or greater customization possibilities.
Wren Kitchens had no gender gap in pay in 2017. They still have a considerable gender gap in bonuses, although that may have more to do with things internal to the company than a true gap.
There is very little information about overall gender gaps regarding bonuses due to the nature of the various systems.
Both IKEA and Wren Kitchens are involved in the needs of workers in the global supply chain. Slave labor, which still exists, is not something either company approves of.
Wren Kitchens acknowledges that it is still possible, but they have committed to weeding out suppliers who use inappropriate labor practices.
In this, IKEA seems to do a better job. They are on the ground with the suppliers, checking to ensure that slavery isn't involved.
Wren Kitchens
Wren Kitchen, the UK's number-one kitchen retailer, was founded in 2009 by Derek Taylor and his son Matthew.
With a focus on quality and value, the company has rapidly expanded from its humble beginnings as a local business to now operating over 100 showrooms nationwide.
In addition to its physical showrooms, Wren also offers a convenient online shopping experience, complete with virtual kitchen design tools and a team of expert designers ready to assist customers in creating their dream kitchen.
Wren is committed to sustainability, using only responsibly sourced materials for its products and implementing environmentally friendly practices throughout its supply chain.
The company also strongly reserves to give back to the community, supporting several charities financially and through employee volunteer initiatives.
Pros and Cons of Investing in Wren's Kitchen?
One potential pro of investing in Wren Kitchens is the company's strong track record of growth and success. With consistently increasing profits and expanding presence in the market, Wren shows no signs of slowing down.
Additionally, the company's focus on sustainability may appeal to socially responsible investors.
On the other hand, as a retail company, Wren may be susceptible to fluctuations in consumer spending.
Additionally, the kitchen industry is competitive, with several large players in the market. It will be important for investors to carefully consider these potential risks before making a decision.
Does Wren Kitchen offer Customization?
Yes, Wren offers a range of customization options for its kitchen products.
From choosing the layout and finishes to adding personalized details such as engraved plaques or specialized storage solutions, customers can create a truly unique kitchen that meets their individual needs.
Wren also offers a virtual design tool and a team of expert designers to assist with the customization process.
Is Wren Kitchens affordable?
Wren offers a range of pricing options to fit different budgets, with the company's mission being to provide quality products at affordable prices. Customers can also use sales and financing options to make their dream kitchen more accessible.
However, as Customization can impact the final cost, customers need to consider their budget and needs before beginning the design process.
Does Wren offer installation services?
Yes, Wren offers a full installation service for customers purchasing a complete kitchen package. The company also provides various other services, such as disposing of old kitchens and electrical work.
Customers can discuss their needs with their designated Wren designer to determine the best options for their project.
Overall, Wren Kitchens offers a combination of quality products, customization options, and convenient services to create an exceptional kitchen design experience for customers.
The company is committed to sustainability and community outreach and appeals to socially responsible investors.
They have also made a commitment to working with these suppliers so that they are in compliance with the IWAY standards the company set up.
This system is much better than severing ties with suppliers who don't follow the rules. It gets people out of a system of forced labor.
There are ways in which the two companies are massively different. IKEA is a do-it-yourself type of business. Furnishings are bought unassembled, and the buyer puts them together when they arrive.
Wren Kitchens will install, but that is more likely necessary when installing stoves, lighting, and other aspects of a kitchen.
Most people would need help, especially regarding plumbing and wiring. IKEA stores its products at the stores themselves instead of having regional warehouses dotting the landscape.
Wren Kitchens has warehouses, but that would be needed because of the differences in the businesses.
However, that does increase Wren Kitchens's carbon footprint, as shipping will be required.
But Wren Kitchens also has a focus on sustainability. They have a recycling program for offcuts and unused materials, using them to make new products instead of just throwing them away.
They also use FSC-certified wood only in their products, ensuring that their wood is from responsibly managed forests.
IKEA also has some sustainable practices, such as using recycled materials and energy-efficient lighting. But Wren Kitchens has a more dedicated focus on their operations and products.
While both companies offer quality kitchen furnishings at affordable prices, Wren Kitchens offers customization options and a strong commitment to sustainability that may appeal to socially responsible investors.
When choosing a kitchen design company, it is important to consider individual needs and values.
IKEA is about the entire experience; working, shopping, and customer satisfaction. They even have a food court in their stores. Wren Kitchens is struggling in the customer satisfaction department.
They have gotten into trouble multiple times for poor customer service and have been fined for breaking Unfair Trading Regulations as defined in 2008. Wren Kitchens currently only operates in the United Kingdom, Ireland, and Germany.
Regarding sustainability, IKEA has been making progress for years toward becoming a completely sustainable company by 2030. They have switched to renewable energy sources and are cutting down on single-use plastics.
Wren Kitchens is also making efforts toward sustainability, specifically in their supply chain. They have implemented the IWAY system to ensure that suppliers follow ethical and environmental guidelines.
While both companies offer affordable kitchen furnishings and customization options, they differ in business models, locations, customer satisfaction, and sustainability initiatives.
Wren Kitchens has a long way to go if they wish to catch up with IKEA, but they are on the right track.
They may need to curb their aggressive sales tactics to meet the community-oriented standards of IKEA, but that seems to be their only challenge.
What are the differences between the two?
Wren offers customization options, while IKEA does not
IKEA has a do-it-yourself model, while Wren offers installation services
IKEA stores its products in-store, while Wren has regional warehouses
IKEA focuses on the overall experience, while Wren has faced issues with customer satisfaction.
Concluding Thoughts:
Both companies offer quality products for creating a dream kitchen. Still, customers may prefer the customizable options and installation services Wren provides or IKEA's overall experience and do-it-yourself approach.
Ultimately, it is up to individual needs and preferences.
However, Wren may want to focus on improving its customer satisfaction to compete with IKEA's well-known reputation in that area.