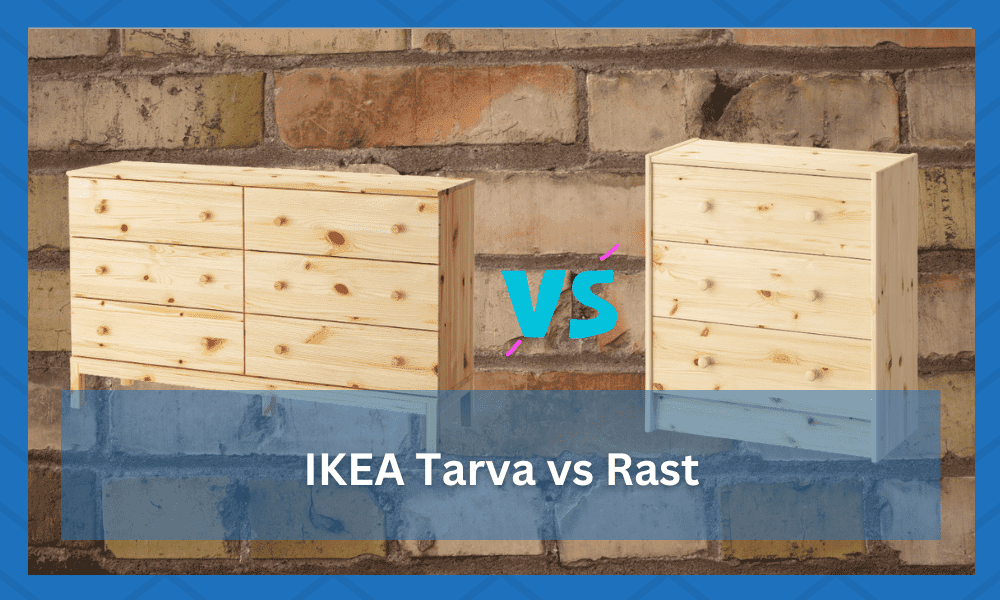 Dressers are one of the essential furniture pieces for a home.
Is it not a hard and fast rule; you can even store your kids' toys, office files or documents, your jewelry, or other electronics like your hair dryer and straighter.
The dresser allows enough storage for your items, keeping them hidden in the drawers and making your room look more tidy and clean.
One must invest in a dresser that is sturdy, durable, and gives your room a warm look, just the way you like.
We recommend thorough research before investing in any kind of furniture, especially a dresser, where all your clothes go in, and you use routinely.
Are you also looking for a new dresser to store your clothes in? If you know the famous IKEA furniture store, popular for its durable and recyclable options, you would most probably be looking for the dressers it offers.
IKEA has its two eminent dresser series, the Tarva and the Rast, which extend the most durable dressers that are reasonably priced and allow you to customize them according to your taste.
When you have options, you wonder which is the right choice; the IKEA Tarva or IKEA Rast. Join us as we compare and contrast these dressers to help you decide which one is best for your needs.
Both beds come in solid food with an untreated finish which allows you to customize them according to your bedroom theme.
These dressers are popular with IKEA shoppers, and although both the drawers are made up of simple untreated solid wood that is sturdy and durable, both have some distinguishing features which make you decide the best one for you.
Keep reading the blog post to find out which one you should choose and why!
IKEA Tarva vs Rast Dresser Comparison
| | | |
| --- | --- | --- |
| | IKEA TARVA DRESSER | IKEA RAST DRESSER |
| Made of | Solid unfinished wood | Solid unfinished wood |
| Size | Big | Small |
| No of Drawers | Six | Three |
| Best for | Spacious rooms | Compact spaces |
| Price | Expensive | Affordable |
IKEA Tarva Drawer Dresser
IKEA's Tarva drawer dresser is a simple yet stylish piece of furniture that can work well in any room in your home.
The dresser is made of solid wood, making it durable and long-lasting. It has a natural finish that highlights the wood grain and gives it a rustic look.
As the wood is untreated, you can also paint, wax, or stain it how you prefer to customize the dresser that matches your other furniture.
It is almost 36 inches in height and 59 inches wide, making it suitable for spacious rooms.
The 59 inches wide top also provides you sufficient space to put a lamp, miniature plant pots, and some of your photo frames to add to the overall vibe of the room.
The dresser has six drawers almost 12 inches wide inside and provides plenty of storage space for clothes, linens, or other items.
The drawers have steel channels and run smoothly with the pull-out stop, preventing the drawer from falling out if you accidentally pull it too much.
The dresser drawer fronts are decorated with simple metal handles that add a touch of elegance to the piece; however, you can also customize the original hardware and compute your own modern or contemporary pulls and knobs.
Additionally, the under-dresser space of almost 5 inches allows easy cleaning of the floor, and you wouldn't have to worry about losing your kids' toys under it.
The Tarva dresser is a great value for the price. It is well-made and looks great in any room. However, there are a few disadvantages of it that one must know before investing in this dresser.
The dresser is made of solid wood, making it extremely heavy and difficult to move.
Although you can personally change the unfinished look of the solid, if you leave it as it is, the natural finish can be susceptible to staining and scratching easily.
The metal handles on the drawer fronts may tarnish or discolor with age.
Despite these potential drawbacks, if you upkeep the IKEA Tarva drawer dresser, it is a great value for the price.
With 6 spacious drawers, it will allow you enough storage to keep all your things out of sight and make your room look spick and span.
If your home interior is warm and neutral, then the undone finish of the dresser will go great with it. Otherwise, you can paint the dresser accordingly and can add a touch of style to your anterior.
Rast Drawer Dresser
The Rast drawer dresser is a great option if you are looking for a simple and timeless piece of furniture. This dresser is perfect for any room in your home, from the bedroom to the living room.
It features clean lines and a classic design that will never go out of style. Plus, it's affordable. Rast drawer dressers are one of the market's most popular pieces of furniture.
They offer a variety of benefits and drawbacks that you should consider before investing in one.
Like the IKEA Tarva dresser, the Rast dresser is also made of solid unfinished wood, permitting you to paint, wax, and lacquer it in a color you personally like.
First of all, its reasonable size makes it suitable for small bedrooms and compact places. It measures 26 inches in height and is only around 11 inches wide.
So you can put it on any wall or corner, and it will just fit in.
The compact size of the dresser also makes it best for teenage rooms, so they can easily reach the uppermost drawer and put their daily essentials on the top of the dressers for easy access.
Furthermore, the IKEA Rast dresser has a total of 3 drawers that are 9 inches deep, so although it does provide you storage space but not have lots of it.
You can put your clothes are towels in the drawers, but the big-size books would not fit in, especially vertically.
The legs of the Rast dresser are just 7 cm long, so it allows you only around 2 inches of space under the dresser. This may cause difficulty in brooming and mopping under the dresser.
On the positive side, Rast drawer dressers are affordable and can be purchased for as low as $50 at some stores. Making it a great option for customers on a budget.
These drawer dressers are very versatile. You can use them in a variety of different ways.
For example, you can use them as a nightstand, a dresser, or changing table. They are very easy to assemble. Most of them come with easy-to-follow instructions.
However, Rast drawer dressers can be very flimsy. They can tip over and cause serious injury if you are not careful.
They can be very difficult to move. If you're frequently moving, this dresser can be a pain to deal with. Rast drawer dressers are not very stylish.
They are made from simple materials and do not offer much in the way of design.
This can make them look out of place in some homes, but if some effort is put into renovating them using lacquer and personalized knobs, it can add a positive visual impact on people.
Our Favorite Pick Of Dresser Drawer:
After considering the pros and cons of each type of drawer dresser, we have decided that our favorite pick is the IKEA Tarva drawer dresser.
It is well-made, solid, durable, sturdy, and at the same time stylish, and perfect for any room in your home.
Plus, the unfinished wood allows customization and personalization according to your taste and the room's overall theme.
The spacious drawers enable you to store most of your things out of everyone's sight, and its tall legs provide sufficient space for easy cleaning.
Although it is made of solid wood, can be heavy to move, and is also expensive compared to Rast, the space it provides and the overall look it gives make it worth investing in. T
his makes the Tarva dresser our top pick.
Concluding Thoughts:
Eventually, what is best depends solely on your room space, the storage you need, and your personal preference.
A few key differences between the Ikea Tarva and the IKEA Rast drawer dresser make the difference.
Where the IKEA Tarva is made of solid wood, Rast is also made of the same composition but is smaller in size and provides comparatively less storage space.
The larger and more spacious Tarva is also significantly more expensive than the Rast. Finally, the Tarva comes in various finishes, while the Rast is only available in unfinished natural wood.
Overall, the Tarva is a higher quality piece of furniture than the Rast, but it comes at a higher price tag. If you're looking for a solid wood dresser on a budget, the Rast may be a good option.
However, if you're willing to spend the extra cash, the Tarva is a better choice in terms of quality and appearance.