When shoppers think of a new bed, two pieces are in their minds: the bed frame and the mattress. These two items are arguably the most important to the bed.
They're the meat and bun on a hamburger. They're the banana and the ice cream in a banana split. They're the pancakes and syrup in an ultimate pancake platter at IHOP. But they're all missing something.
They need something to go in the middle: veggies and ketchup in a burger, chocolate sauce and sprinkles in a banana split, and butter on that ultimate pancake platter. A bed needs a frame, a mattress, and a bed base.
Without a decent bed base, a mattress cannot survive. A mattress could be composed of the finest cotton from India, but without a good base, it would sink in on itself. IKEA and many other companies have decent bed bases.
What is the difference between a Mattress Base and a Bed Base?
A bed is likely an essential investment of a bedroom. And one of the most critical components of that bed is the base on which it sits, whether that's a mattress base or a bed base.
How do you know whether you should buy a mattress or bed base?
Typically, a mattress base is the smaller of the two. It's designed to fit inside a bed frame and support your mattress.
A mattress base will typically be made from wood or metal and may come equipped with wheels to move easily when needed.
On the other hand, a bed base is a larger piece of furniture than a mattress base.
It's designed to support the whole bed and typically comes with drawers or shelves for storing items like clothes or linens. A bed base is usually made from wood but may also be constructed from metal or other materials.
When buying a new bed base, it's important to carefully consider what you need. If you already have a new bed frame and simply need a mattress base, wood or metal would likely be your best option.
However, if you are buying a new bed and the base on which it will sit, you may want to opt for a more substantial bed base with extra storage features.
Choosing between a mattress base and a bed base will depend on your unique needs and preferences. But by considering these important factors, you can be sure that you are making the right purchase for your home.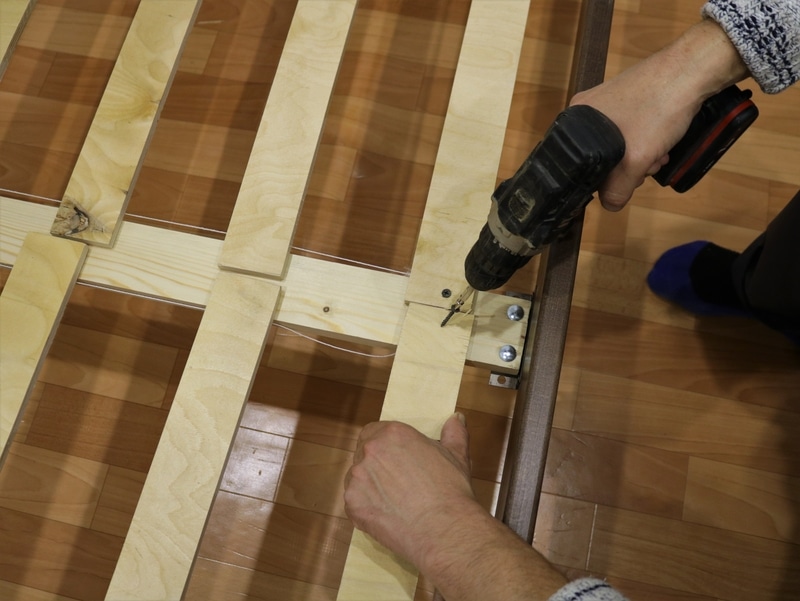 There is a big difference between a mattress base and a bed base.
Whether buying a new bed or simply looking to replace an existing one, it's important to carefully consider your needs to make the right choice regarding your furniture. Continue Reading as we explain in detail how your decision will change your bedding experience.
How does a Bed/ Mattress Base make a difference?
A bed base is a base that goes underneath the mattress to support it and can make a huge difference in the comfort of your sleep.
The right bed base will be supportive and comfortable without sacrificing style or quality. There are some different types of bed bases that you can choose from for your home, including flexible options, slat bases, or box spring beds.
The type and make of bed base you buy for your home depend on a few factors. One of the biggest considerations when selecting a bed base is its comfort.
If you are looking for extra support during sleep, you may consider a flexible option that can be customized to fit your body.
Some people prefer slat bases over box spring beds, as they feel that a slatted base's support is better than a standard foundation.
Another important consideration when choosing a bed base is the style of your bedroom or mattress.
If you have modern or contemporary decor in your home, you may want to opt for a sleek, simple bed base to match.
However, if you are a traditional decor fan, you can consider a box spring bed with more visual appeal.
Ultimately, the best way to choose the right bed base for your home is by considering your personal needs and preferences.
Continue reading as we help you explore more about the different types of bed bases and how they can help you improve your sleep.
What's so special about IKEA's Bed Bases?
IKEA's bed bases are special because they're durable, sturdy, and long-lasting. Unlike other bed bases, IKEA's are made from high-quality materials that can withstand years of daily use without showing signs of wear and tear.
Whether you love to sleep on a firm surface or prefer something more plush and cushiony, IKEA's bed bases are sure to meet your needs.
If you plan on purchasing a base that will last for years, look no further than IKEA. With their wide selection of styles, materials, and sizes available, there's definitely something for everyone.
The Divan Base from IKEA is one of the most popular choices regarding bed bases.
It's made from top-quality materials that are durable and long-lasting, so you can rest easy knowing your bed base will hold up to daily use for years to come.
The Divan Base is available in various sizes, suited to fit beds of varying sizes.
When selecting the right base size for your bed, you can pick one that fits snugly underneath – perfect if you like the streamlined look – or go with a slightly larger model, so there's plenty of space around your mattress.
Then there's also the slatted base, a stylish alternative to the standard ground. This sturdy piece is made of solid wood and provides optimal support for your bed and mattress, ensuring you get the best night's sleep possible.
If you're looking for high-quality bed bases at affordable prices, IKEA is the place to shop! So what are you waiting for? Other mattress base options at IKEA include mattress foundations and box springs.
One type of bed base is a slatted one. It is exactly what it sounds like. The floor comprises wooden planks (or slats) with rubber grips that hold it in place.
The most talked-about slatted bed base at IKEA is the LONSET. It's reliable, affordable, and works as expected.
Homeowners with this bed base said it's "very stable and better than a box spring." Others commented that the base is firm, but it's better for someone who prefers a soft bed.
A couple of competing sellers of slatted bed bases are Ashley Furniture and The Home Depot. These companies sell their bed bases for about the same price as IKEA.
One of The Home Depot's best-slatted bed frames is the Titan 7. It's popular because of its simplicity. One can easily roll it out and set it on the bed, and roll it up when they're moving. That being said, it likely is not as sturdy as IKEA's.
A slatted bed base at Ashley Furniture, the Frames and Rails full roll slat is most complimented on its look. It's got a pretty white color and looks elegant on the bed. However, it's pretty thin and does not support a thick mattress well.
The other obvious option for a bed base would be box springs. This is generally used for a bed, but base slats are becoming more common.
Box spring is more associated with the mattress than the bed frames. Because of this, IKEA's biggest competitors with box springs are mattress stores.
IKEA's beds are traditionally made to go without a box spring. This works best for people who dislike a bulky, hard mattress.
If something softer is needed, IKEA is the best way to go. However, they occasionally sell made beds with box springs, which are still an option. They work with those who want to use box springs and have different settings for some bed frames.
Mattress Firm has plenty of sturdy, beautiful box springs. They work well with those who aren't ready to switch to bed slats. Their one downfall is that their box springs are quite pricey.
Choosing a bed base can be difficult. Whether you go with a slatted bed base or a box spring, see what IKEA offers.
Concluding Thoughts:
When choosing a bed base, there are many options to consider. One popular choice is the slatted bed base, sturdy and reliable while providing optimal support for your mattress.
Other options include mattress foundations and box springs, which can be found at IKEA at affordable prices.
If you're looking for high-quality bed bases at affordable prices, IKEA is the place to shop! So why wait? Start browsing today and find the perfect base for your bed!