IKEA has a wide variety of ready-to-assemble beds, but IKEA's MALM beds remain one of the most popular choices for many people.
It has a clean design with wood veneer that gives you the same look, feel, and beauty as solid wood. Its variations in color, texture, grain and two to four-bed storage boxes make it unique and more practical than other IKEA ready-to-assemble beds.
MALM bed frames come with the center beam, also referred to as a mid-beam that is included in the price but is packaged separately.
The mid-beam made of galvanized steel gives the bed frame adequate balance and stability and keeps the mattress in place.
Although they can be challenging to assemble if correctly assembled, this versatile bed will look great with any choice of textiles and bedroom furniture.
For the proper assembly, you must have all the parts of the bed together with the mid-beam.
Since the mid-beam is packaged separately and not with other parts of the bed when you get a MALM bed, there are chances that you forget to pick it up from the store, or you may even lose it.
However, this isn't the case when ordering the MALM bed online.
If you have placed an order for your MALM bed online, the shipment would include the SKORVA steel mid-beam, and you are not required to add it to the cart separately.
Now at home, while you get ready with your partner to assemble the IKEA MALM bed to give your room a lovely look, but in the middle of the process, you realize you're missing a mid-beam, don't panic!
There are a few things you can do to troubleshoot the problem and get your bed back up and running.
Assembling any bed without a mid-beam isn't ideal and could result in instability and damage.
However, if your bed's mid-beam is also missing, you might want to assemble your IKEA MALM bed without it. Check the assembly instructions to see if this is one of the options. If so, proceed with caution.
Fixing IKEA MALM Bed Missing Midbeam
Check For Missing Parts
Before you start assembling, double-checking that all the parts are there is always a good idea.
In our opinion, double-checking should begin from the Ikea store from where you decide to get the bed. Ensure after you have paid the price for the bed, all its parts are carefully placed in your car.
Or if you have made the order online, it is best to check and count all the parts first thing when your shipment arrives. Sometimes components can get lost or broken in shipping or during the unpacking process.
If you're missing a mid-beam, see if any other parts are also missing. It's possible that the whole shipment was incomplete.
If that is the case with you, call the official helpline of IKEA immediately and inform them about the missing parts.
IKEA takes the responsibility of replacing any of the components of their products that are not shipped with the item or are broken/damaged when received.
They would simply require a six-digit code on your product to confirm the product and replace it immediately.
If you only seem to be missing the mid-beam, check to see if it's possible to order a replacement part from IKEA.
You might need the product number, which can be found in the assembly instructions or on the IKEA website. Otherwise, you can go to the store and pick it up for yourself.
It would give you immense pleasure to know that IKEA replaces the products missing in the shipment free of cost; hence it is recommended that you check your shipment as soon as it arrives and informs IKEA about any misplaced parts immediately.
So if your shipment has a missing skorva steel mid-beam, you are just a call away from getting it on your doorstep free of cost.
On the other hand, this is not the case, and you have misplaced the mid-beam yourself. If this was solely your mistake, IKEA would not replace it free of cost, considering the company's standard guidelines.
However, you can buy the replacement yourself from the store or IKEA's official website.
Once you have the mid-beam replacement, finalize assembling your bed and have a safe night on your steady MALM bed.
2, Assemble Without the Mid-beam
If you're sure you have all the other parts and you still can't find the mid-beam, you might be able to assemble the bed without it.
How safe and steady a bed is without a mid-beam greatly depends on the size of the bed.
Where Kate, Twin beds can do well without the mid-beam support, the kind and queen sizes wouldn't. Assembling a large-size bed without the mid-beam support is not ideal and could result in an unstable or dangerous bed.
It may cause bowing and sagging and even may collapse with substantial loads on it.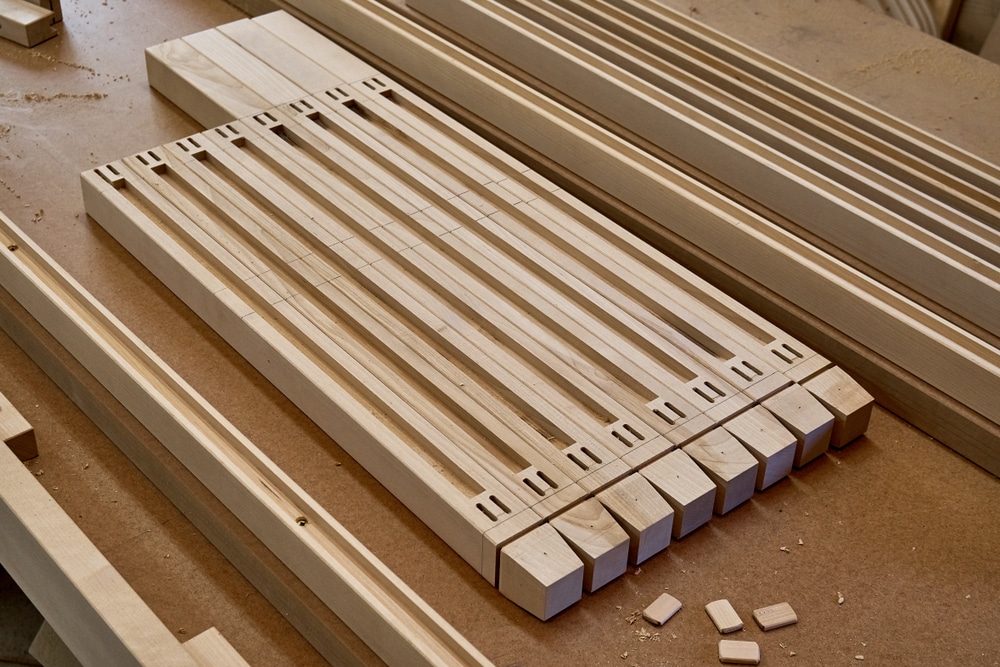 However, if you decide to assemble your bed without the center support, carefully follow the assembly instructions and ensure all the other parts are appropriately tightened.
In such conditions, you are recommended to use the extra support brackets (often included in IKEA furniture kits) to add stability if possible.
3. Use an Alternative Solution
If you don't feel comfortable and satisfied assembling the bed without a mid-beam, you can try a few other things.
One option is to use a piece of metal that is the same size and shape as the mid-beam.
Although this isn't ideal, it might work in a pinch. It would give some center support to your bed and stability that is otherwise missing.
Another option is to use furniture straps or support to keep the bed frame together. Furniture straps, although used to provide additional support, here they can be used as the main component for stability.
This isn't as stable as using a mid-beam, but it might be enough to get you by until you can get the ordered replacement at your doorstep.
If you are unable to find a replacement for the mid-beam Ikea official website or their store, you can always try checking on amazon.
If it's not available and you have to get that MALM bed assembles to give a look to your bedroom for a family get-together, you can try using a piece of wood or metal that is the same width and length as the mid-beam.
Place it under the bed frame where the mid-beam would normally go. Ensure that you lock it up in the place of mid-beam.
This will provide adequate support for the bed frame and mattress. However, it could be a safety risk if the piece of wood or metal is not securely fastened or is not capable of bearing high loads.
If you choose this option, check the support regularly to ensure it remains secure. It is recommended to also use the bed with precaution and avoid extensive tossing and jumping on the bed for your own safety benefits.
4. Try a Different IKEA Bed Frame
We have another really nice option if you're still having trouble finding a mid-beam after you have taken the necessary steps for maintaining the temporary stability of your bed without the beam and you still don't feel comfortable assembling the bed without a mid-beam.
You can save yourself from the anxiety and dangers the bed with alternate mid-beam brings with itself and you might want to try a different IKEA bed frame.
Some frames, like the IKEA Hemnes bed frame, don't require a mid-beam.
They have a full support block at their base and don't require a mid-beam. There are also other IKEA bed frames that sit on the floor.
You can easily put your matters over it and have no worries about it being unstable and imbalanced.
This might be a good option if you're having trouble finding a replacement part or are not comfortable assembling the bed without a mid-beam.
Conclusion
IKEA's MALM bed is a versatile bed with a maximum of four storage boxes that will beautify the look of your bedroom and solve your storage issues.
This ready-to-assemble bed, like most other IKEA beds, comes with a headboard, footboard bed frame, and a mid-beam made up of steel that adds to the bed's stability.
However, if you have misplaced your center beam or have not received it in your shipment, you would be glad to know you can get its replacement from IKEA.
If the mid-beam was missing in the shipment, it would be replaced free of cost; otherwise, you would have to buy it yourself.
If you are unable to get the replacement, you can assemble your bed without the mid-beam (especially if it's small in size), or you can temporarily fix in the metal or wood piece of the same length and width in place of the original svorka mid-beam to provide the bed frame with adequate stability.
Another option is to entirely change the bed frame and use the one with the slatted bed base.
We recommend you either get the replacement or a new slatted base so you can comfortably sleep without the fear of your bed collapsing because of a missing mid-beam.