There are plenty of furniture store options to benefit any homeowner's needs. Both have their pros and cons. Two of the most notable are IKEA and Wickes Kitchen. Shoppers need to narrow their choices to fit their needs.
In this article, we will compare the two stores in terms of cost, customization options, and overall quality.
Kitchen Comparison: IKEA vs Wickes Kitchens
| | | |
| --- | --- | --- |
| | IKEA kitchens | Wickes Kitchen |
| Based in | All around the world | Only in the UK |
| Specialty | Furniture | Hardware |
| Quality | Good quality | Good quality |
| Price | Affordable | Expensive |
| Worktop choice | A lot of choice | Limited options |
| Design Consultant | Available | Not Available |
Wickes Kitchens
Wickes Kitchens is a kitchen design, installation, and renovation company founded in 1972 by Henry Wickes. The company focuses on providing high-quality materials and personalization options for its customers.
Wickes Kitchens offers various services, including consultation and design assistance, project management, and post-installation support. In recent years, Wickes Kitchens has emphasized sustainability and eco-friendly practices.
The company offers a variety of energy-efficient appliances, as well as recycled and recyclable materials for kitchen cabinets and countertops.
Wickes Kitchens also partners with organizations that support sustainable forestry and responsible sourcing.
In addition to kitchen renovations, Wickes Kitchens also offers bathroom design and installation services.
Customers can choose from stylish fixtures, tiles, and vanity options. The company also offers plumbing and electrical installations for all bathroom renovations.
Wickes Kitchens prides itself on offering high-quality materials and personalized service for kitchen and bathroom remodels.
However, the limited worktop option and the lack of online design tools can sometimes be a drawback for customers.
Wickes Kitchens does not offer virtual design services or 3D renderings, requiring customers to visit showrooms to envision their kitchen or bathroom redesigns.
The company only provides six worktop options, with limited customization for each choice.
Despite these limitations, Wickes Kitchens' commitment to sustainability and personalized service make it a popular choice for kitchen and bathroom renovations.
The warranty for Wickes Kitchens' installation services varies depending on the products and materials used, but most come with a standard one-year warranty.
Customers can also opt for extended warranty coverage through the company's partnership with Domestic & General Insurance.
The customer care team at Wickes Kitchens is available to assist with any questions or concerns throughout the renovation process. With over years of experience in the industry, Wickes Kitchens is a trusted name in kitchen and bathroom renovations.
IKEA Kitchens
IKEA Kitchens offers a wide range of customizable options at affordable prices. They also offer eco-friendly and sustainable materials for their kitchen products. Their modular design allows for easy assembly and flexibility in layout changes.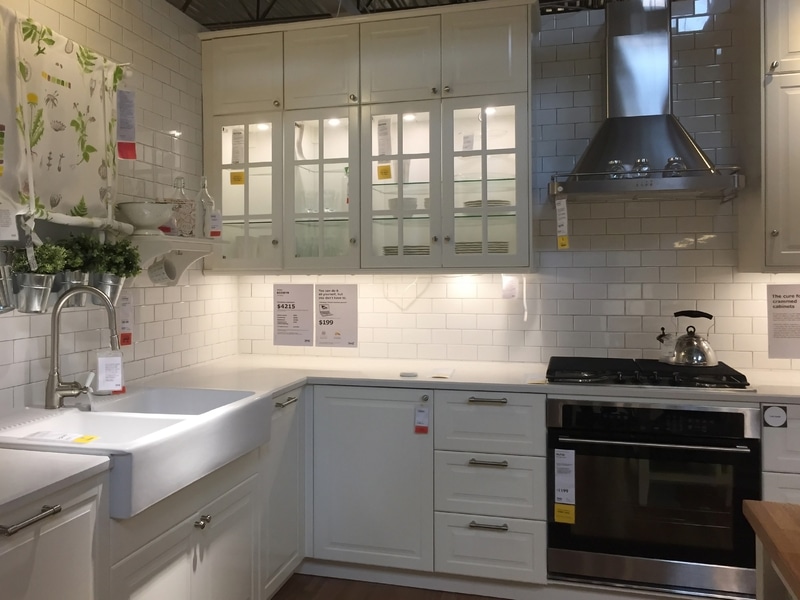 Compared to its competitors, IKEA Kitchens offers a combination of affordability, customization, sustainability, and convenience. The customization feature gives IKEA an edge over competitors who may have limited options for customization.
Their eco-friendly materials and commitment to sustainability set them apart in an industry that can often be detrimental to the environment.
And the convenience of their modular design appeals to customers looking for an easy and hassle-free kitchen renovation experience. IKEA Kitchens offers a unique combination of features that make it worth the visit.
IKEA is known for its affordable prices, offering customizable options at a fraction of the cost compared to other kitchen retailers. On average, customers can save up to 50% on their kitchen remodel by shopping at IKEA.
This affordability allows customers to have the freedom to change and update their kitchens as often as they like without breaking the bank.
IKEA Kitchens offers customers a wide range of customizable options, sustainable materials, and convenient assembly at affordable prices compared to its competitors.
This makes it a worthwhile choice for anyone looking to update their kitchen on a budget.
IKEA products are designed to be durable and long-lasting, but like any furniture or household items, they will eventually wear out with regular use.
However, IKEA offers a warranty on their kitchen cabinet system and appliances, giving customers confidence in the durability of their products.
Customers can purchase additional insurance for their products to cover any damage or wear and tear.
IKEA offers durable products with the added assurance of warranties and insurance options.
For shoppers outside the United Kingdom, IKEA is the better option. The Swedish-based company has 423 stores in 26 locations. Customers worldwide can stop into an IKEA for their furniture needs.
Wickes Kitchens, better known as Wickes, is a different story. Wickes is a UK-based company with about 240 stores.
However, all of these stores are in the United Kingdom. For UK residents, the store is great. For anyone else, it's difficult to order from them.
IKEA is a store centered around showcasing furniture and then selling it to the homeowner. They are a furniture store through and through.
Wickes is better known for its supplies. It is a furniture store, but it is a hardware store like Menards.
Whereas people shopping at IKEA would buy furniture for a new home, Wickes shoppers are more likely to shop for a renovation.
Some of their online categories are "building materials," "flooring," "doors and windows," and "hardware."
On the Wickes website, shoppers can request help with the design of their homes. Wickes most famously helps redesign kitchens. IKEA sells single pieces, and Wickes sells the space.
Wickes Kitchen and IKEA are arguably in competition, but they could help each other. IKEA could use materials sold at Wickes, and Wickes could use IKEA's furniture in their renovations.
The biggest competition between IKEA and Wickes would be with kitchen products. As for the quality of the kitchen, IKEA wins. Homeowners have said that IKEA's "build quality is far better."
IKEA also has prices that are difficult to match. Rival companies have yet to be as affordable as IKEA.
What Wickes lacks in quality and price, they make up for in the design. IKEA's big flaw is fitting.
The shopper can pay to have someone set it up for them, but it will significantly add to the cost. This would reduce the discount that makes IKEA so appealing.
Neither store has large complaints. When it comes to kitchens, it's truly about what the homeowner wants.
Wickes is the place to go if the homeowner wants an okay-priced kitchen that can be fitted well. They can also buy any spare materials they may need in the kitchen at Wickes, too.
IKEA is their choice if the homeowner wants a cheap, sturdy kitchen. However, they will have to comply with the spacing. Depending on the outline of the kitchen, problems might arise with their kitchens.
Each store has great kitchens.
Neither option is a bad choice. They both have many kinds of reviews and have plenty of experience. And if the shopper has anything other than home needs, both stores can help.
Key differences between IKEA Kitchens and Wickes Kitchen?
IKEA kitchens are typically more affordable, with a wider range of styles and options for customization.
Wickes kitchens tend to have higher quality materials and finishes but less flexibility in design.
Both offer installation services, but Wickes offers more comprehensive project management and assistance with planning.
IKEA kitchens often have a more modern, minimalist aesthetic, while Wickes offers a wider range of traditional and classic styles. It depends on individual preferences and budget.
When it comes to cost, IKEA is the more budget-friendly option. Their kitchen units are often sold at a lower price point compared to Wickes.
However, this may mean that some elements, such as doors and handles, may need to be purchased separately, driving up the overall cost.
Wickes offers more complete packages but at a higher price point. Customization options also vary between the two stores.
IKEA offers a wider range of cabinet styles and designs and hardware choices. However, their options are limited to what is currently available in their catalog.
Wickes may have fewer options available, but they offer the opportunity for custom cabinetry to be designed and installed. In terms of overall quality, it is a bit harder to compare as it ultimately depends on the individual products chosen.
However, many customers have found that Wickes kitchen units are sturdier and have better longevity. IKEA units may need to be reinforced or replaced sooner.
Who offers better Customer Care?
This is subjective and would depend on individual experiences. Both companies have a dedicated customer service team to address concerns or issues. However, due to its large size and global presence, IKEA may have more resources and support available.
Ultimately, it is important to research and read reviews before deciding.
Are these companies making environmentally friendly products?
Both companies have made efforts towards sustainability and reducing their environmental impact.
For example, IKEA aims to only use renewable and recycled materials in their products by 2030, and Wickes offers an eco-friendly kitchen collection with energy-efficient appliances and responsibly sourced materials.
It is important to research and consider your values when making purchasing decisions.
It is important to carefully consider your needs and priorities when choosing between IKEA and Wickes kitchens. Both companies have their strengths and weaknesses, and the best option will vary for each individual.