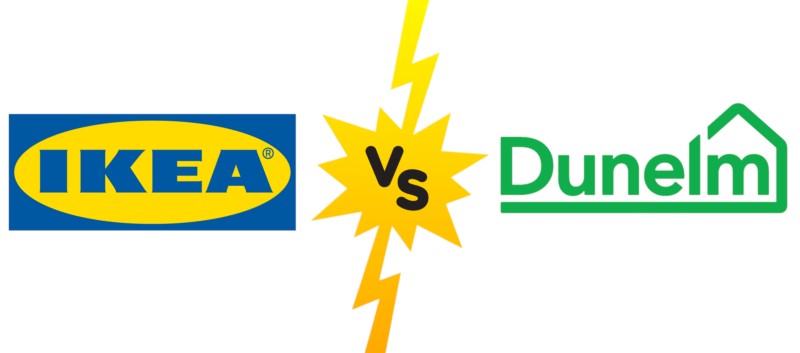 IKEA vs. Dunelm
Furniture shopping is everyone's least favorite errand. It's exhausting, boring, and frustrating. It's hard to relax and find what's best for the home when everything in the store is overwhelming. What's worse is that there are hundreds of stores to choose from. It's impossible to buy a new table without choosing a store.
Two possible store options are IKEA and Dunelm. IKEA is a worldwide furniture store known for their cheap products and Swedish meatballs. They have 433 stores across 52 countries. Dunelm is a furniture store based out of IKEA. There are about 170 stores across the United Kingdom. They have plenty of products ranging from tables to garden furniture.
Both stores have an extraordinary variety of pieces. They have different colors, sizes, and shapes of furniture. And they are affordable. You can find many products at both stores for under $100. However, IKEA is still much cheaper. They design their products specifically for the price, so it's hard to beat.
What makes IKEA stand out is their cafe, but not from Dunelm. Dunelm sticks with competition by having a cafe of their own. They have sandwiches, teas, coffee, and milkshakes. But of course, they don't have the signature IKEA Swedish meatballs.
IKEA makes its products cheap and sturdy, and one of the reasons is because they have so few employees. They put up signs that describe the products, so they need fewer employees to answer questions. This is nice for those who don't like speaking to employees and have a few questions. For more specific questions, though, it's nice to have an employee around.
People who review Dunelm commend them on their customer service. The staff is said to be really helpful and kind. They have great products, but what makes them special is their amazing staff. The employees will help shoppers get every item they need.
IKEA is helpful in its own way. They connect to customers by making quality products that are affordable. They create an experience in the store by making a comfortable path. They put their cafe in the center of the store so shoppers can take a break halfway through.
Both stores have easy to navigate websites. They keep up with their technology and social media. Ordering stuff online through both sites is simple, and the products can be delivered to the homeowner's door.
Looking at reviews is one way to choose between IKEA and Dunelm. Ordinarily, IKEA has better reviews than other furniture stores. When it comes to Dunelm, things are different. Unlike many other stores, they have better reviews than IKEA. Many prefer Dunelm because their service is so efficient.
Dunelm is great for those who need a furniture in the United Kingdom. However, it's not ideal for those outsides of Europe. It's definitely a great store, but one that needs to expand across the world.
IKEA is everywhere and super accessible. There are stores all over the world with more opening every day. Both stores are great, and definitely worthy of checking out.