In the age of independence and stubbornness, more and more people are learning to get things done by themselves.
There seems to be a youtube tutorial for everything nowadays, and people are learning new skills daily. It's even gotten to the point that companies profit from this.
Places like IKEA and DIY Kitchen make money on people opting out of their furniture being installed.
They get a lower price, so they are more likely to spend a higher price on bigger units. That being said, kitchens are not always easy to install by oneself.
IKEA vs DIY Kitchens
| | | |
| --- | --- | --- |
| Features | IKEA | DIY KITCHENS |
| Price | Affordable | Affordable |
| Based in | Worldwide | UK baes |
| Customization | Comparatively less | Better customization |
| Quality | Good | Reasonable |
| Customer Service | Satisfactory | Satisfactory |
DIY Kitchens
DIY kitchens are based in the UK, and they are one of the UK's largest online retailers. Their team of experts helps you to design your kitchen. You have multiple options of styles, colors, and finishes to suit your home.
They have over 30 years of experience supplying kitchen fittings, appliances, and accessories too!
At DIY Kitchens, their installation service is designed to make installing your new kitchen a seamless and hassle-free experience.
Their team will work closely with you so that they can recommend the best products for your home and installation needs.
The prices at DIY Kitchens are very competitive. The company sends free home delivery on orders above a certain amount and free design consultations.
Their website is user-friendly, and their customer service advisors are always available to assist customers with any query they may be facing.
Whether you're looking for appliances, worktops, sinks, or units, DIY Kitchens has everything you need under one roof. With so many products available, it's the perfect place to plan your dream kitchen.
So, why not head to their website today and start designing your new kitchen? You're sure to find something you love!
If you need help installing your DIY Kitchens products, their team is always on hand to assist. They can help you choose a professional installer or recommend the best way to plan the installation yourself.
No matter what sort of kitchen you're looking for, DIY Kitchens is sure to have something that suits your style and budget.
It's important to look into all options when getting a kitchen. Who will install it? What layout is best for the kitchen? What is the budget? IKEA and DIY Kitchens are both known for having quality kitchens at a reasonable price.
IKEA Kitchens
Compared to other furniture, IKEA kitchens are a good choice because they are affordable and stylish. They come in many different styles and materials to help you find something that will perfectly fit your home's decor.
IKEA is spread worldwide, while DIY Kitchens are only found in the United Kingdom.
Still, both of these companies manufacture kitchens using simple and effective design principles, which ensure that their products are affordable, stylish, and durable.
There are many reasons to choose an IKEA kitchen over a DIY one. For starters, IKEA kitchens are more affordable than other options on the market.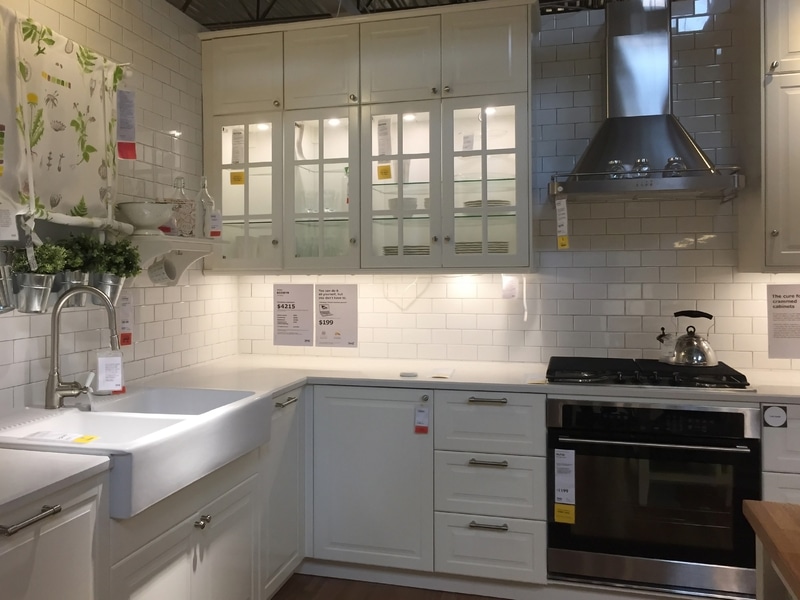 IKEA has large selections of cabinets, countertops, sinks, faucets, and other products for creating a functional and beautiful kitchen space.
They offer multiple shades and finishes to choose from, so you can find something that will complement the rest of your interior design well.
One thing that makes IKEA kitchens a great choice is that they are affordable compared to other furniture options.
You can find quality cabinets for a fraction of what you would pay at a regular store, and you can save even more by getting your materials delivered right to your home.
Another reason that IKEA is a great option for kitchen furniture is that it offers many different styles and designs.
Whether you prefer farmhouse-style cabinets or sleek modern finishes, you will surely find something that will fit your home beautifully.
Differences between IKEA and DIY Kitchens
Several key differences can be noted between IKEA kitchens and DIY kits.
One difference is that IKEA's kitchen design, installation, and construction processes are highly streamlined to ensure that customers only need a few days or weeks to complete the entire project.
In contrast, DIY kits may require several weeks or months to complete as it involves sourcing and purchasing the necessary materials, planning out the design and layout for a custom kitchen, and considering other aspects such as electricals, plumbing, flooring, and ceiling.
Another key difference is that IKEA kitchens are usually premade to ensure uniformity in quality across all models.
This means that customers can order a kitchen based on the dimensions and specific requirements specified by them.
In contrast, DIY kitchens require significant labor hours to ensure that all components fit together properly to form a complete and functional unit.
As such, we can see that IKEA kitchens provide greater convenience, flexibility, and efficiency compared to DIY kits.
Another difference between IKEA kitchens and DIY kits is that the former are often higher quality than the latter.
This is partly because IKEA's kitchens have been rigorously tested, whereas DIY kits may not undergo similar testing procedures.
Furthermore, the value for money provided by IKEA's kitchens is often superior to DIY kits due to their higher quality and better design. These differences can help customers choose between IKEA and DIY kits for their kitchen needs.
IKEA is cheaper than DIY Kitchens. IKEA is more affordable than the average furniture store and gets many customers. However, when it comes to kitchens, IKEA is not favorable.
They do not have as wide of a selection, and installing the product can cause problems.
IKEA kitchens are not good for abnormally sized kitchen spaces. It's hard to put the kitchen in if there are wires or needs for gaps.
DIY Kitchens is the leading online kitchen supplier in the United Kingdom. They are a company specializing in kitchens, so they have many options.
Their cabinets come in many shapes, colors, and sizes—the standard designs of their kitchens' cabinets. Including the cabinet depth, while IKEA's are a bit deeper.
IKEA is the better choice if you're someone with more cabinet space. DIY Kitchens fit better in kitchen spaces and are easier to move.
Both stores offer installation or not. The buyer can install it by themselves if they choose to, or they can hire a private installer.
IKEA products are spacious and modern, and DIY Kitchens have variable spacing. Both companies offer a wide variety of products to choose from.
However, there are some downsides to both brands. IKEA does not provide an advanced online kitchen designer tool where customers can see what their kitchen would look like with the products they wish to buy.
Even though IKEA offers 3D images of individual products, it is impossible to see the whole kitchen based on your specifications.
DIY Kitchens often does not have enough stock for all their customers. They tend to be out of items and do not advise when something will be restocked.
If the store installs the kitchen, it takes about two weeks. This is for both stores, so it doesn't help in deciding which store to choose.
Two weeks is a fairly short time and could benefit the homeowner. When it comes to quality, IKEA is still a better choice. DIY Kitchens is not as well known worldwide, so their quality may be sketchy.
They are also found online, which doesn't help the customer know whether they are trusted.
Of course, none of this is beneficial if there isn't a store near you. There are DIY Kitchens in the UK, but they're not elsewhere. IKEA has stores in 26 different locations.
For those in the UK, DIY Kitchens may be easier. In other countries, IKEA would be the best choice.
DIY Kitchens are great for those who need a customizable size. They leave room for pipes and, generally, have little problems installing them.
However, IKEA is better for those on a budget. Their kitchens are not as durable as DIY Kitchens, but they're still of great quality. IKEA kitchens are best if you're on a tight budget and still want something sturdy.
However, IKEA has many other products, so if it's a matter of redoing the whole house, it may be best to get it all from IKEA.
Overall, both stores have plenty of pros and cons. They both have plenty of great reviews and would do a great job installing a kitchen.
Concluding Thoughts:
When choosing between IKEA kitchens and DIY Kitchens for your kitchen needs, it is important to consider various factors. Both brands offer unique benefits, such as high-quality products and customizable design options.
They also have drawbacks, such as limited stock availability or installation difficulties.
The right choice will depend on your budget, kitchen space, and personal preferences. Both IKEA kitchens and DIY Kitchens are great options for homeowners seeking an efficient and stylish kitchen remodel.