IKEA is a well-known furniture company that offers a wide range of ready-to-assemble furniture and other products for the home.
Like any other furniture company, IKEA also introduces its new series from time to time, ensuring versatility and better quality compared to its previous series.
IKEA's BRIMNES series is among their most popular lines, which includes bed frames, dressers, and nightstands.
These series add valuable, long-lasting space to your homes and can fit any setting and style.
These are loved by many, especially young couples and people living in small spaces where finding storage is a challenging experience.
Recently, IKEA has released a new line called MALM, which is supposed to upgrade the BRIMNES series.
It combines neutral tones and light wood finishes with spacious drawers that boost the elegance of your room while giving an expeditious de-cluttered sense and keeping a zen feeling flowing throughout the room.
Both series have their style, sophistication, and elegance, and it eventually comes down to your taste likeliness and preference when you want to sort out which one you should take home.
So, which one is better and suits your style? Let's figure it out!
IKEA BRIMNES vs MALM Comparison
BRIMNES
MALM
PRICE
Relatively cheap
Little expensive than BRIMNES
DESIGN
Modern Scandinavian Design
Minimalist Earthy Design

MATERIAL
MDF Material
100% wood
COLOR VARIATIONS
Black, White, Grey
Black, White, Grey Brown, Beige
CHEST OF DRAWERS
Min 2 drawers

Max 4 drawers

Min 2 drawers

Max 6 drawers

COMPATIBILITY
Smaller areas requiring sufficient storage
Large rooms requiring greater storage space
BUILT
Less sturdy
Sturdy
WEIGHT
Heavy
Manageable
The BRIMNES series has been around for a while, so it's had enough time to build a good reputation among regular IKEA customers.
It's sturdy and reliable, with a classic design that never goes out of style.
The MALM line is newer, and although it didn't have as much time as BRIMNES to prove itself, its elegant design and available variations make it worthwhile to invest in.
So, which one should you choose? This blog post will compare the two and help you decide which one is right for you.
IKEA BRIMNES
The IKEA BRIMNES is a low-cost storage option perfect for small spaces.
The series offers a variety of units, including beds, wardrobes, night stands, dressers, storage drawers, and chest of drawers, all in 3 different colors; black, white, and oxford grey, with variations in sizes and design.
With its various color options and sizes, the BRIMNES series allows customers to choose and pick according to their affinity and bedroom sizes.
The BRIMNES series was specifically designed to save space in the household which is why the furniture in this IKEA series offers a great storage solution with generously sized drawers.
The BRIMNES bed frame offers two compartments to store clothes, towels, or other items.
The IKEA BRIMNES also has a built-in laundry bag that makes it easy to separate your dirty clothes from your clean clothes.
It offers three different slatted bed bases, Leirsund, Lonset, and Luroy, and the price varies depending on which slatted base you choose
Another appalling feature of BRIMNES beds is that the bed frames are adjustable; hence, you can conveniently choose a mattress of any thickness to fit it.
The IKEA BRIMNES is made from sturdy plastic and is an overall nice-looking piece of furniture, providing convenience and functionality.
Like variations in beds, the BRIMNES series also offers a wardrobe in two styles; two-door and thee door wardrobes that are available in different sizes.
The wardrobe has a clothes rail for long dresses and shirts, shelves for folded clothes, shoes, and bags, and a mirror door, so you wouldn't need to mount a separate mirror in your room, helping you save even more space.
Similarly, the dressers also come in different sizes with 3 drawers or a maximum of 4 drawers.
Additional features that make the BRIMNES line stand out include an easy-to-assemble design and a five-year warranty.
The cost difference with the MALM collection is also very significant.
Customer reviews for the IKEA BRIMNES are mostly positive, with customers citing its easy assembly, low cost, and spacious compartments as its best features.
However, some customers have complained regarding the quality of plastic used in the IKEA BRIMNES.
It is not as sturdy as other storage options on the market, and the surface is easily scratched.
Therefore one must be very careful while assembling the furniture from the BRIMNES series to avoid any scratches that could ruin its appearance and the bedroom vibe.
Overall, the IKEA BRIMNES series are Modern Scandinavian Designs. It is a great storage option for small spaces.
Whether you are a reader with lots of books to store, an artist who finds it difficult to store painted canvases, or a mother who wants to keep everything de-cluttered and organized with simple furniture designs, then IKEA BRIMNES is your go-to series of furniture.
With the crisp lines and scores, the IKEA simple BRIMNES series adds functionality with current minimalistic art-décor trends and makes your home more cohesive.
IKEA MALM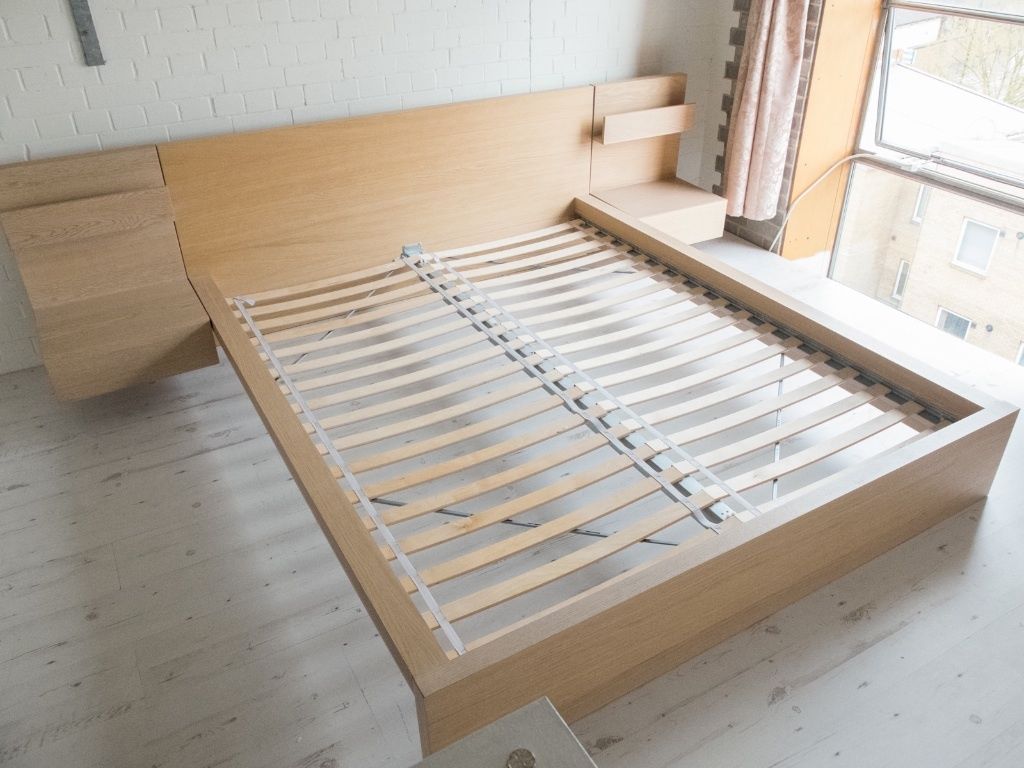 IKEA MALM is a series of furniture products manufactured by IKEA. The line also includes beds, dressers, nightstands, and desks like the BRIMNES series.
The furniture is made of wood and is available in several finishes, including white, black, and grey color and also in natural wood finish extending options for those who are exhausted of white and blacks and want to add earthy richness to the room to make the room feel warm and more inviting.
Additionally, the wood veneer of the MALM bed a good texture.
The beds come in different sizes, including the king, queen, full and standard single.
The high headboard in the MALM bed series allows you to sit comfortably on the bed by just propping a few pillows.
It's the Best alternate for boys who play FIFA all night without adequate back support, which may eventually lead to backache problems.
The raised bed structure gives you enough space to vacuum easily under the bed frame to keep the space clean and dust-free.
IKEA MALM is known for its design and functionality.
The furniture is a little costlier than the BRIMNES series, but due to its extra features, it is justified and is a popular choice for many customers.
It offers under-bed storage for high-bed frames not offered by the BRIMNES series.
Furthermore, the MALM series have a greater variation in the category of chest of drawers.
They offer a chest of drawers with a minimum of 2 drawers and a maximum of six drawers, giving you more storage space.
The MALM series also offers glass tops that add more elegance and refinement to the unit.
IKEA MALM furniture has generally received positive customer reviews, with most praising its simple design, wood veneer appearance, and greater storage capacity.
A few customers found the assembling process challenging and complained regarding the quality of the furniture, noting that it is less sturdy than many other brands.
But a benefit of investing in the MALM collection includes its wide availability, variation, and earthy, warm appearance.
Compared with the BRIMNES collection, which holds a little less price point, the MALM line is a better value as it offers more pieces and finishes.
The IKEA MALM line is a great option if you are looking for a stylish and functional furniture series with greater room space to adjust the bigger units that, in turn, allow more storage.
The difference is that MALM is more expensive, with an average price of $200, while BRIMNES is cheaper, with an average price of $170.
Our Favourite Pick
Our favorite pick is the IKEA BRIMNES series. It comes at a great price and is perfect for small spaces.
The IKEA BRIMNES has a built-in laundry bag and a storage space for clothes.
If you want your furniture to add beauty with functionality in an affordable price range, the IKEA BRIMNES is a great choice.
What to keep in mind when choosing between IKEA MALM and IKEA BRIMNES?
Cost: MALM is more expensive, with an average price of $200, while BRIMNES is less expensive, with an average price of $170.
Quality: Some customers have complained about the quality of the BRIMNES series that it is easily scratched and needs extra care while assembling.
Features: The IKEA BRIMNES features multiple compartments that store clothes, towels, or other items.
The IKEA BRIMNES also has a built-in laundry bag that makes it easy to separate your dirty clothes from your clean clothes.
Style: IKEA BRIMNES furniture is known for its simple design and functionality. The furniture is also affordable, which makes it a popular choice for many customers.
Size: The IKEA BRIMNES is perfect for small spaces.
Warranty: The IKEA BRIMNES comes with a five-year warranty.