Hasselvika bed frame is one of IKEA's products that have high ratings on the site. With that in mind, it is easier to determine the value of the products since the best reviews come from the users themselves.
Without insight on how the product performs, we have to rely on the information IKEA gives us on their online store. However, as that is the case with the Hasselvika, there is a very little amount of information about this bed frame on the site.
IKEA Hasselvika Bed Frame Review
Therefore, in this review we will focus on what IKEA says about this product while, if you are seriously considering to purchase it, it would be best to visit one of their stores and try out the product on the spot.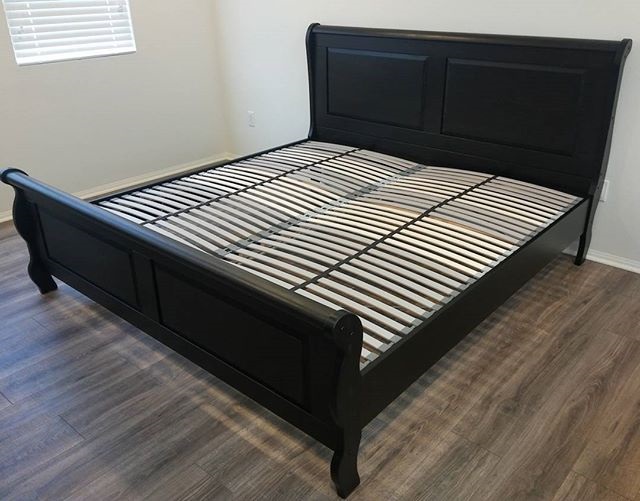 Structure
The Hasselvika bed frame is made of real wood, unlike most of other IKEA's bed frames. The top rail, legs, the footboard and the bedside are all made of solid pine and stain, both covered with clear acrylic lacquer. The headboard, however, consists of two solid pine layers also covered with clear acrylic lacquer.
The wood is a solid and natural material, meaning it is durable and long-lasting, which is exactly what you should be looking for in a bed frame. As usual, the center support beam is made of galvanized steel.
What goes well with it
This section is included in all of our IKEA bed frame reviews since there are always some recommendations on what performs the best with a certain bed frame model. However, IKEA has not placed any recommendations on the site regarding which products go along the Hasselvika bed frame, leaving us once again to keep guessing.
The best guess would be any high quality slatted bed base (the recommendation is usually Luroy). As far as the mattress is concerned, any higher quality IKEA mattress would do, except that we don't have the information whether the frame sides are adjustable.
Therefore, prior to purchasing a mattress, make sure you take a look at the bed frame in the store and determine what mattress thickness would go best with it.
Other details and customers' opinions
Since we don't have customers' opinions on this product, we will conclude that, based on the information we do have, this bed frame is solid and expected to do its job. It is not designed to be a space saver, like the Brimnes or Brusali mattress, since its long legs keep it above the ground and placing boxes underneath it would affect its appearance.
The Skorva midbeam that supports the structure and holds the mattress is included in the price. However, you will have to pick it up from its own shelf in the store since its not packaged with the bed frame. If you order the Hasselvika bed frame online, the Skorva midbeam will come in the package without you having to hand pick it.
As far as cleaning the bed frame goes, the story remains the same. A damp cloth and a mild detergent will be enough to wipe the bed frame clean. Then dry it with a clean cloth and the job is done.
The product requires assembly and is shipped in boxes which are pretty heavy. Handling them on your own could be a challenge but if you're not up to it, you can always choose online shipping service for a little extra money or just enjoy the Amazon prime shipping.
The warranty that comes with the product is the same as with all other IKEA bed frames. It is a 25 year warranty that covers all manufacturing costs and none of the damage done by the consumer. Unlike with the mattresses, IKEA does not offer trial periods on bed frames.
Pros of IKEA Hasselvika bed frame
CONs of IKEA Hasselvika bed frame
Is IKEA Hasselvika Bed Frame Good?
Overall, judging by the price and the little info IKEA has given us, we can come to a conclusion that the Hasselvika bed frame can do what its designed to do. It is a simple piece of furniture that has one purpose only, making it simple to determine whether or not it is functional.
Taking into consideration that it is made of solid wood, unlike most of IKEA's bed frames, we can confidently say that this product is durable and will last a couple of years at least. Just to be sure, visit one of IKEA's stores and talk to their staff, try out the bed frame in person and then make a decision whether to purchase it or not.
IKEA Hasselvika Bed Frame
Summary
Taking into consideration that it is made of solid wood, unlike most of IKEA's bed frames, we can confidently say that this product is durable and will last a couple of years at least.